Our Valuable Team Members
Margie Duclayan,
Operations Manager:  
Margie Duclayan brings with her over 30 years of Operations Management experience in the Silicon Valley. She has owned, managed and consulted a variety of small startup businesses ranging from electronic defense contracting and distribution, music and entertainment, semi-conductor and the wireless industries.  Margie is creating the infrastructure needed to achieve Christina's business goals and support Christina's business philosophy. She is dedicated to continually educate, improve and motivate our team members to be successful. It is especially important to partner with local small, woman, and minority owned suppliers that will consistently provide our clients with the most current trends and stand committed in providing the best quality services available in our industry.
Margie has a passion for eating, cooking, music and dancing. She loves sharing life experiences with her wife Annie, rescue dog Gracie, family and friends. She enjoys traveling to concerts, culinary festivals and sporting events. She loves working in the Event Planning Industry because it encompasses all of her passions and allows her to experience new adventures with the variety of events that Signature Events create for their clients.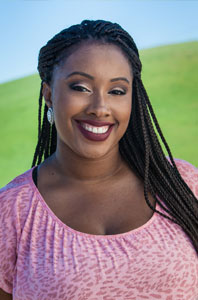 Cree Daniels
Senior Event Associate
Cree is originally from the Los Angeles area. She loves watching movies and enjoys fine wines. She's never too busy to cuddle and play with her Olde English Bulldog. With the ability to multi task in parallel to working with Signature Events, Cree has planned her own destination wedding with her fiancé Nathaniel. Her event planning career started while working her way through college as a Special Events Manager for the Pebble Beach Company. She gained extensive event experience and knowledge while assigned to the popular US Open, Pebble Beach Food & Wine, Concourse d'Elegance, and the infamous AT&T Pro-Am Tour. After graduating from San Jose State in 2011 with a Hospitality Management degree, Cree expanded into the Hotel Industry and then embarked into a career in Corporate Catering and Dining. She brings a keen eye for "clean lines" and stress free organization. While working with large crowds in a variety of events, industries and situations, Cree has learned to be quick thinking and works proactively to turn any chaotic situation into a systematic calm. Let Cree make your event stress free!